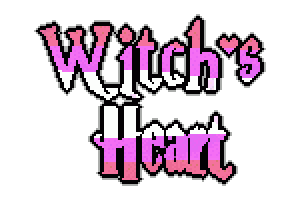 Witch's Heart
is an adventure game by
IZ (BLUE STAR Entertainment)
made in RPG Maker 2000.
It's a story-focused game with some light action elements.
While playing up in the mountains, Claire Elford finds herself taking shelter from the rain in a mansion.
Soon, she finds four other people, some bizarre monsters - and no way back out.
In the company of demons, the five must figure out how to escape...
and solve the mystery of the legendary wish-granting treasure, the Witch's Heart.
Note:
The story is split into several separate games.
Witch's Heart
contains four scenarios, about 3 hours each.
After completing these,
Witch's Heart -Bonus Stage-
continues the story.
The story does not end there, and more will be coming at a later date. For spoiler details,
click here.
WARNING:
This game is rated R-15. You should be
at minimum 15 years old.
There is considerable gory content (both illustrated and sprited), as well as some dark themes in general.
(Content Severity:
Severe
)
Click here for more detailed content warnings.
---
Download Witch's Heart 1.23 | (Mirror)
Download Witch's Heart -Bonus Stage- 1.04 | (Mirror)
(Chrome may falsely flag the download as malicious, but it's safe to ignore.)
Supported Platforms


The game's engine is made for Windows only, with no native support for other platforms.
The multi-platform EasyRPG Player mimics the behavior of RM2K and RM2K3, but may not always be exact.
Also, for Macs, you can try a general-purpose tool like WineBottler.
---
Usage Notes
Videos, live streams, and fanworks are allowed.
Selling fanworks is allowed if kept to a "hobbyist" scope (this includes conventions).
[1] Japanese rules page
[2] Tweet specifically allowing cons
---
Troubleshooting
Make sure to extract the game to its own folder instead of running directly from the ZIP file.
If you don't do so, any saves made will be lost the next time you run the game.
The
intro movies
may cause errors (or play improperly) on some systems.
I've added options to skip them, and save prompts beforehand to help ensure no progress is lost.
They can be
viewed externally
in the "Movie" folder in Data.
If you get a DirectDraw error, right-click the EXE, go to Properties, Compatibility, and try other compatibility modes.

If the font doesn't seem correct, download and install the MS Gothic font.

RPG Maker 2000 has some inherent, unfixable control bugs ("automatically moving in a direction" or "no buttons work").
The issues often seem to involve gamepads, or getting "stuck" on an input if Shift and a Numpad key are pressed simultaneously.
Thus, try fiddling with gamepads and your keyboard until it fixes. (Reinstalling the game likely won't help.)

If you get "not implemented" errors on or near startup, make sure you have a working sound device (speakers/headphones).
It can also occur mid-game if your system doesn't like a particular MP3, in which case, try to delete or replace the file in Music.

You may get "RPG Maker 2000/2003 RTP is not installed" or missing file errors on startup.
This can happen if the path contains special symbols, causing files (including RPG_RT.ini) to not be found.
Try moving the game folder somewhere without any special symbols in the path.
---
Screenshots
---
Walkthrough
A walkthrough for all scenarios and demon requests.
Walkthrough
---
Music
Below is a list of all the songs in every game.
Beware of spoilers for their usage!
They can be found in the Data/Music folders, with some (mostly jingles) being in Sound.
Note that the Usage names are made up by me and are in no way official.
You can mouse-over some names for specific uses (which can be much more spoilery).
You can also mouse-over some filenames for original song titles (when not apparent from the filename).
All the music is from public resource sites (mostly free, some paid); they're not original songs made for the game.
Do not reupload these songs elsewhere without permission from their respective creators.
Song List
---
Translation Notes
(These contain spoilers for all of Witch's Heart and Witch's Heart -Bonus Staae-. Only read after you've beaten them fully.)
---
Do you have a wish you'd be willing to kill for?