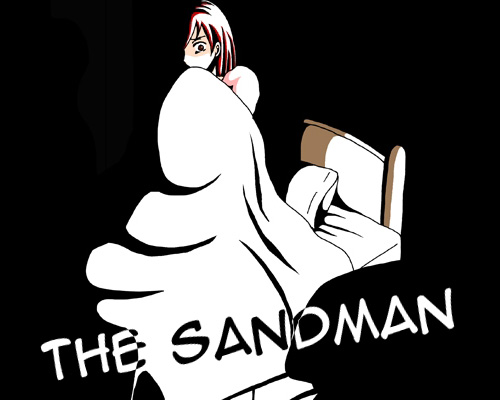 The Sandman
is a freeware horror-style adventure game by
Uri
made in WOLF RPG Editor.
It is the second game in the Strange Men Series.
For days now, Sophie Grundler has been unable to sleep.
Bullied at school, and her father busy with work, she simply has to endure.
Then one night, the clock in her room stops ticking...
(Content Severity: Very Mild)
---
Download The Sandman (Version 3) | (Mirror)
The Sandman is now available on Steam and Playism for $3.
The game will remain free here, but you can show Uri your support by purchasing it.
---
Usage Notes
Videos are allowed, but should not be profited off of, with the exception of YouTube monetization.
Live streams are allowed.
Fanworks are generally allowed and can be sold.
However, you should not sell anything that uses any specific resources from the game.
[1] Japanese rules page
---
Troubleshooting
(The first such picture should appear in the shower during the intro.)
---
Screenshots
---
Walkthrough
I've provided a walkthrough if people get stuck.
Click or highlight the black boxes to show spoiler text.
Walkthrough
---
Translation Notes
(These contain spoilers for all aspects of the game. Only read after you've beaten it fully.)
---
Mr. Sandman, bring me a dream...