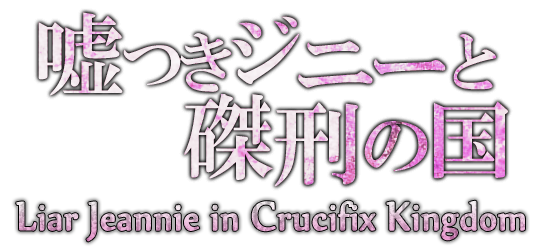 Liar Jeannie in Crucifix Kingdom
is an RPG by
Uta (Sky Scraper Project)
made in RPG Maker VX.
Jeannie finds herself in a jail cell, chosen as a sacrifice in a kingdom of the undead.
Before long, she encounters her brother Marta, and they make plans to escape this place.
But in the Crucifix Kingdom of Morte Moses, escape is far from easy...
This game has no experience or levels; almost everything is dependent on your equipment.
You can equip any item, and it can give you increased stats and special skills.
You can also create new items by combining base materials, and collect undead to fight alongside you.
(Content Severity: Generally Mild)
Click here for content warnings.
---
Download Liar Jeannie in Crucifix Kingdom 1.2 | (Mirror)
(Chrome may falsely flag the download as malicious, but it's safe to ignore.)
Installation of the RPG Maker VX Runtime Package (not VX Ace) is required to play.
Download VX Runtime Package (RTP)
Supported Platforms


The game's engine is made for Windows only, with no native support for other platforms.
To play on Mac, you can try a general-purpose tool like WineBottler.
---
Troubleshooting
Make sure to extract the game to its own folder instead of running directly from the ZIP file.
If you don't do so, any saves made will be lost the next time you run the game.
If you extracted the ZIP but save data is still being erased, try running the game as an administrator.
Without admin privileges, the game may not have permission to create save files.
"RGSS202E.dll could not be found" means you need the RPG Maker VX RTP.
This is distinct from the VX Ace RTP which other games may require. The download link is up above.
---
Screenshots
---
Guides
A collection of guides for various things, including an item list.
Part of the fun is figuring things out on your own, so try not to spoil yourself.
Guides
---
Liar.