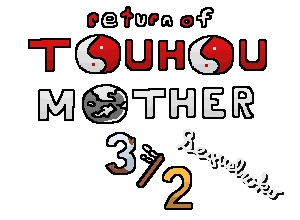 • Return of Touhou Mother
is an RPG Maker 2000 game created by S-tele.
There's also Kirai Shouen on graphics, mao and ALiCE TAiL on music, and Mifo on programming (the battle system).
It is the sequel to
Touhou Mother
, but you can get away with not playing the first game. (It's not that good.)
Six months have passed since Porky was driven out of Gensokyo.
In the outside world, Ness and Paula are just trying to relax when Iku appears with an unusual request.
Meanwhile, Koishi and Satori, having been cooped up underground for months, decide to take a look at the surface.
What has become of Gensokyo? And what will become of it?
(Content Severity: Mild)
Click here for content warnings.
---

Download Return of Touhou Mother | (Mirror)

•
---
Troubleshooting
---
• Battle Memory
Unofficial (written by me) Battle Memory entries for every enemy.
Contains spoilers for all enemies and bosses.
---
Dude? That's nuts, brah.