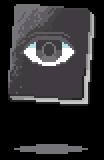 At the Tale End
is a wandering RPG quest by
Haneda
made in WOLF RPG Editor, with no battles and a single ending.
A terribly-wounded traveler wakes up in a clinic run out of a cave.
With no memory of what happened, he begins to wander in search of information.
It is a peaceful world; the Dark Lord has been defeated. And yet...
(Content Severity: Generally Mild)
Click here for content warnings.
---
Download At the Tale End 1.07 | (Mirror)
(Chrome may falsely flag the download as malicious, but it's safe to ignore.)
Supported Platforms


The game's engine is made for Windows only, with no native support for other platforms.
To play on Mac, you can try a general-purpose tool like WineBottler.
---
Troubleshooting
Make sure to extract the game to its own folder instead of running directly from the ZIP file.
If you don't do so, any saves made will be lost the next time you run the game.
If the game freezes your computer on startup, it's likely caused by a problem with auto-installing fonts.
Go into the Data folder, install all of the fonts, then delete the font files and try running the game again.
It's supposed to install them automatically, but this seems to freeze some systems - deleting the fonts will stop it from trying.

If dialogue doesn't show up or uses the wrong font (which may cause cutoff text), manually install the fonts in the Data folder.
---
Screenshots
---
Walkthrough
The walkthrough is split into three sections.
General Tips answers general questions about what to do.
Main Quest guides you through the main steps of the story.
Sub-Quests explains all the sub-quests in the game.
(You must do most of them to see the ending.)
Walkthrough
---
Translation Note
(This contains spoilers for the game. Only read after you've seen the ending.)
---
That's the world in its entirety.