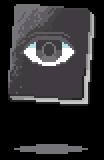 At the Tale End
is a wandering RPG quest by
Haneda
made in WOLF RPG Editor, with no battles and a single ending.
A terribly-wounded traveler wakes up in a clinic run out of a cave.
With no memory of what happened, he begins to wander in search of information.
It is a peaceful world; the Dark Lord has been defeated. And yet...
(Content Severity: Generally Mild)
Click here for content warnings.
---
Download At the Tale End 1.07 | (Mirror)
---
Troubleshooting
---
Screenshots
---
Walkthrough
The walkthrough is split into three sections.
General Tips answers general questions about what to do.
Main Quest guides you through the main steps of the story.
Sub-Quests explains all the sub-quests in the game.
(You must do most of them to see the ending.)
Walkthrough
---
Translation Note
(This contains spoilers for the game. Only read after you've seen the ending.)
---
That's the world in its entirety.