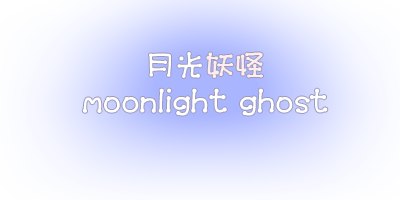 Moonlight Ghost
is a "reverse horror game" by
tachi
made in RPG Maker VX Ace.
This ends up making it a level-based high score arcade puzzle game. But not actually horror.
A reverse horror game, where you do the horror!
It's up to you, the player, to scare people!
It's a somewhat odd adventure game with four chapters in all.
(Content Severity: Very Mild)
Click here for more detailed content warnings.
---
Download Moonlight Ghost 1.0.7 | Mirror
(Chrome may falsely flag the download as malicious, but it's safe to ignore.)
Installation of the RPG Maker VX Ace Runtime Package (not VX) is required to play.
Download VX Ace Runtime Package (RTP)
Supported Platforms


The game's engine is made for Windows only, with no native support for other platforms.
To play on Mac, you can try a general-purpose tool like WineBottler.
Browser Version
(This is an RPG Maker MV port with touch support which can be played in-browser.)
---
Troubleshooting
Make sure to extract the game to its own folder instead of running directly from the ZIP file.
If you don't do so, any saves made will be lost the next time you run the game.
If you extracted the ZIP but save data is still being erased, try running the game as an administrator.
Without admin privileges, the game may not have permission to create save files.
"RPG Maker VX Ace RTP is not installed" means you need the RPG Maker VX Ace RTP.
This is distinct from the VX RTP which other games may require. The download link is up above.
If dialogue seems to be using the wrong font (which may cause cutoff text), download and install MS PGothic.
---
Screenshots
---
Bonus Info
Various information about the post-game chapter. Spoilers, probably.
Bonus Info
---
Let's Horror