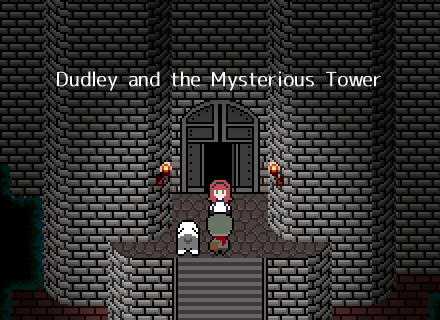 Dudley and the Mysterious Tower
is a short freeware puzzle-adventure game
by
Sen (Miscreant's Room)
made in WOLF RPG Editor.
A courier and a dog arrive at a tower
with an important delivery for the tower's master.
(Content Severity: Generally Very Mild)
Click here for content warnings.
---
Download Dudley and the Mysterious Tower 1.09 | (Mirror)
---
Usage Notes
Videos and streams are allowed, but should not be monetized.
Including the game's title and linking the game page in any videos of it is appreciated.
[1] Japanese video guidelines
---
Troubleshooting
---
Screenshots
---
Walkthrough
A complete guide through the game.
Walkthrough
---
Extra Links
There's a short storybook-style "novelization" that was released slightly before the game.
They're basically the same story, but the game actually provides more information, so I would play it first.
Storybook Version
---
You can't leave until you make the delivery.