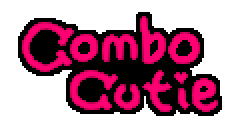 Combo Cutie!
is a short arcade-style combo platformer by vgperson.
Combo the puppy/human loves Cutie the puppy/human!
But how can Combo impress Cutie? Sweet-as-sugar combos, of course!
Maximize your combo potential in three different combo areas!!
Be sure to look at the in-game guide for information on the types of combos and the COMBO CUT!
---
Download Combo Cutie!
Usage Notes
Videos and live streams are allowed.
---
Troubleshooting
---
Screenshots
---
Back Link Combo x1