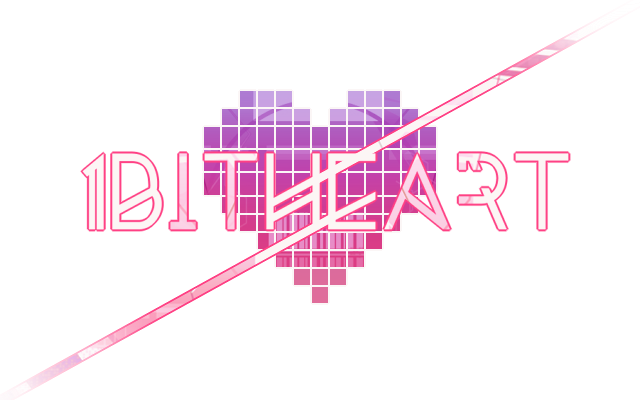 1bitHeart
is a friend-making adventure game by
△○□× (Miwashiba)
made in WOLF RPG Editor.
It's a story-oriented game with a focus on making friends in town.
Nanashi is a young, reclusive boy in a high-tech world governed by programs.
One day, a girl suddenly appears in his room, and proposes that Nanashi go out and make friends.
He decides to give it a try, but just as he does, odd things start to happen around town...
(Content Severity: Generally Mild)
Click here for content warnings.
---
Download 1bitHeart 1.05 | (Mirror)
1bitHeart is now available on Steam and Playism for $3.
The game will remain free here, but you can show Miwashiba your support by purchasing it.
---
Troubleshooting
The parts where you must enter a sequence of buttons have had input issues, though they should be ironed out now.
If Z, X, or C do nothing, alternative buttons should work: use Space or Enter for "Z," Escape or Backspace for "X," and Shift for "C."
---
Screenshots
---
Walkthrough
A straightforward plot walkthrough. Click or highlight the black boxes to show spoiler text.
Walkthrough
---
Friend Guide
A guide to befriending people during Free Time.
May contain some spoilers regarding who can be befriended and what presents people like.
Friend Guide
---
Music
Below is a list of songs and their sources.
There may be minor spoilers with regard to where songs are used.
The oo39.com songs don't really have proper names, but I put their "tags" in the hover text.
Some songs are from commercial CDs called Free Music Cluster Vol. 1 and Vol. 2.
Thus, only previews are freely available for these tracks.
The SENTIVE songs come in a big pack; download from one of the mirrors at the bottom.
Do not reupload these songs elsewhere without permission from their respective creators.
This especially applies to the ending music.
Song List
---
Translation Notes
(These contain spoilers for all aspects of the game. Only read after you've beaten it fully.)
---
1 2 3 4 5