(Toggle Theme)
(Size Up)
(Size Down)
Sasakure Finally Makes His Tablet Debut! ♪ (from sasakure.UK's blog)
At long last, sasakure.UK has debuted with his tablet!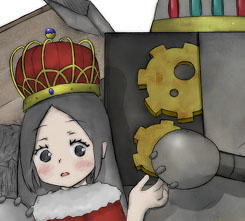 http://www.pixiv.net/member_illust.php?mode=medium&illust_id=26793947
I drew an illustration based on my song,
The Trash-Heap Princess and Apostrophe!
♪
It's my first time drawing something straight to PC.
I hope to study harder and create a wide variety of artwork and creations!
When I first used the tablet, I thought, this tool...
it's so very easy to use...!
It's like...
It's like, now I understand...

The way Nobita felt...

When he first used one of Doraemon's tools...
* Just in case you don't know what "easy to use" means.
But, yes. It makes it very easy to adjust the balance of a figure, or fine-tune the details of lines.
When drawing on paper, using an eraser to make adjustments often erases a lot of the surroundings as well.
And while it's a rare occasion that I use the eraser so much that the paper *rrrrips!!*...
Well, with a tablet, it's simply
one-click one-fix okey-doke!
*is that even words*
Yes, today was when I realized the tablet was one of the greatest chemical weapons given to mankind.
However, there is one... fault?
It's that the more I get used to using a tablet,
the more we seek that convenience from paper media as well.
Allow me to demonstrate...!
〆(・ω・´ )
Before I draw the lines on the tablet, I do a quick scribble on
paper
first.
And often in this process,
I mis-scribble.
*doodle scribble write*
Σ〆(・ω・´;) oO(Oh no, I messed up!!!)
*table-tap...*
〆(・ω・´;)っ_ oO(I got this, I got this...
Ctrl+Z, Ctrl+Z...
)
〆(・ω・´;)っ_ oO(...)
〆(´༎ຶД༎ຶ`)っ_ oO(WHERE IS IT!!!!!)
These are the sad thoughts I've found myself thinking. *serious face*
Oh, also.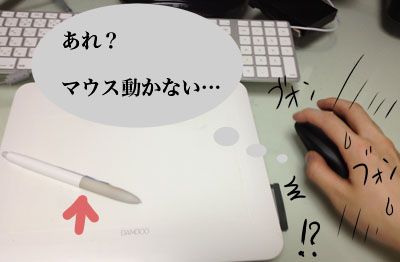 "Huh? The mouse isn't moving..."
I'm sure this has happened to you often? Yes.
(Imagine, if you will, sasakure.UK exasperated after nearly

15 minutes

of checking his mouse's connection.)
To the 30-million-plus tablet-lovers worldwide:
I wish to share in this sorrow with you.
There must be artists out there who have carried out the same mistake as I...!
sasakure.UK sez: There must be... there simply must...!!
sasakure.UK sez:
HEY! GUYS!
Friend A (Artist) sez:
Uhhh, nope, haha.
Friend B (Designer) sez:
Sorry, but no.
Friend C (Artist) sez:
I don't even... know how you could do that?
RIGHT. THANK YOU VERY MUCH.
Posted April 27th, 2012

Post List
Back