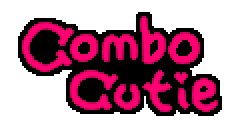 Combo Cutie!
is a short arcade-style combo platformer by vgperson.
Combo the puppy/human loves Cutie the puppy/human!
But how can Combo impress Cutie? Sweet-as-sugar combos, of course!
Maximize your combo potential in three different combo areas!!
Be sure to look at the in-game guide for information on the types of combos and the COMBO CUT!
---
Download Combo Cutie!
Supported Platforms


This game is for Windows only; I have no real way of making a native Mac version. To play on Mac, you can try a general-purpose tool like WineBottler.
Usage Notes
Videos and live streams are allowed.
---
Troubleshooting
Make sure to extract the game to its own folder instead of running directly from the ZIP file. If you don't do so, any saves made will be lost the next time you run the game.
On Windows 10, the game may fail to start (nothing happens when run). If so, ensure DirectPlay is installed. Go to Control Panel, then Programs and Features. Click "Turn Windows features on or off." There, look under Legacy Components and check DirectPlay. Run the game again, and install DirectPlay when prompted.
---
Screenshots
---
Back Link Combo x1