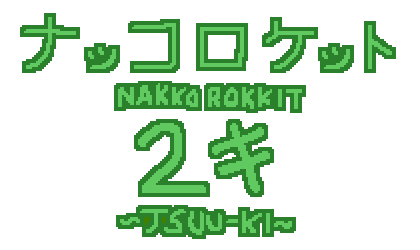 Nakko Rokkit: Tsuu-Ki
is a rocket rocket rocket platformer by vgperson, where you're a cat with a rocket pack.
It is the (totally different) sequel to the (fictional) bootleg game
NaKKo ROKK!! it
.
nakko has knock down all opponent.
but one opponent remain... that is EARS GRAVITY.
find rocket and get velocity to MUNE. and beat doggo again maybe!!
---
Download Nakko Rokkit: Tsuu-Ki
Usage Notes
Videos and live streams are allowed.
---
Troubleshooting
---
Screenshots
---
BACK TO EARS